SU(u)CH DKCH NUCH NORDCH ESTCH JEUW-06 SW-06 SW-08 Junior of the year 2006
Manaca's Beat About the Bush
born: 2005-06-28
Hips: B, eyes:clear. Optigen normal/clear (A), FN tested- Normal
Qualified to Cruft's !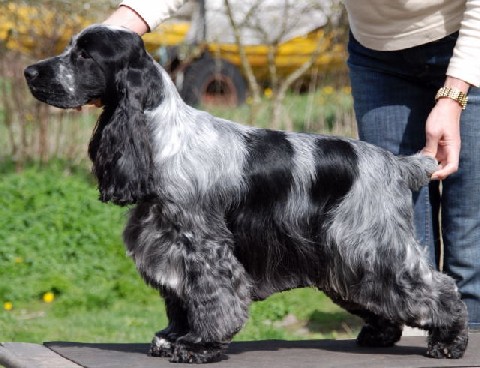 Colin 2 years old.
"Colin" lives with the Widenor family, just outside Stockholm with Arnie - Ch Quettadene Lancelot. You can read and see more of him at their website

He made his showdebut at 4 months old and was BOS puppy, only beaten by his litter sister Josofin. At the 2 following shows he was BOS puppy again, in big competition, but at the 4:th show he went right to the top and became BIS!!
From juniorclass he has 8 CACs and BOB, BOS and groupplaceing!! He got his first title when he won his class at the European winnershow - 06!!
In youngsterclass he's unbeaten so far, and he's got 4 more CAC's with BOB and BOG-reserve to his credit. He's now got a total of 13 CAC's, gained by 13 different judges!!
He was also shown at Cruft's 2007 where he was place second in yearlingclass, as the first scandinavianborn Cocker ever to be placed at Cruft's!!
He got his Swedish show championtitle only a few days after his second birthday! Because he had a Danish CAC from youngsterclass he also became Danish showchampion at once.
At 2 years and 3 months of age he also gained the Norwegian championtitle and also the NORDIC championtile, surely the youngest ever to get it!!
At his first visit to Estonia he got the CAC wich also made him Estonian showchampion!

Colin's got B-hips and eyes clear and is optigene tested A (normal/clear)

watch Colin grow...
| | | | | |
| --- | --- | --- | --- | --- |
| | | | | |
| 4,5 weeks old | | 7 weeks | | 7 months |
| | | | | |
| 10 months | | 1 year old | | 18 months |
| | | | | |
| 2 years | | | | |
PEDIGREE:

Fader/Sire:

NuCh DeCh SU(u)Ch
Travis Vital Spark


(blue roan)

NUCH
Tomboys Tailor Made
(blue roan)
INTUCH NUCH SUCH
Tomboys Try To Night
SUCH
Tomboys Brown Betty Boop
Travis Neon Light

(black & tan)
SV-89
Leavenworth It S A Pleasure

(red)
SV-92 Travis Fool's Game

(blr)
Moder/Dam:

SU(u)Ch NUCH
Manaca's Rain or Shine


(black/white)

Northworth
A True Ashgrove

(black/white)

FinCh IntCh
Raccoons Quite A Bomb
(blue roan)
USCh Ashgrove Captivating

(blue roan)

SU(u)CH Manaca´s Alice in Chains

(blue roan)

Stocdale American Prayer
(black/white)
Manaca´s Chain Reaction
(blue roan)


Copyright © Manacas ~ Uppdated: 2010-05-20