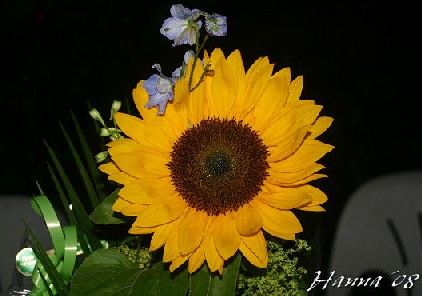 ~ WORLD WINNER WEEKEND
IN STOCKHOLM JULY 4-6-2008 ~
World dog show in Sweden for the first time ever, so I thought it would be a nice thing to throw a party to get to know Cockerpeople from all around the world in a more relaxed way. Since the Swedish Cockerclub are celebrating it's 30:th anniversary they thought it would be a good idea to joi in and sponsor with welcomedrink and prizes for the competitions. The invitation was out on my website and was also published in the Cocker magazine no2-08. At the day of the party we had the nicest Swedish sumerweather and 60 people from 9 different countries had joined up at the farm! We had guests from Norway, Finland, Croatia, Russia, Italy, Australia, Austria, England, Ireland and Sweden of course.

In fact... I think we had more guests from abroad than from Sweden, I don't really know what thatsays about the Swed's partymood...!? Anyway, we had a supernice evening, thanks to all who made it such a memorable day!!

The party started with a quizround that you could chose if you wanted to go individually or in a team. The quiz was won by Yvette Widenor who won a bronzerelief of a Cockerhead. She was one of 2 who had 8 out of 9 questions right but she was closest to the km question.3 more teams got prizes in form of golden pins of a Cockerhead. After the quiz Daniel Svensson, the president of the Swedish Cockerclub served everyone a welcomdrink in the bar. >>


Here is team Australia/Italy on their last bit on the quizround...

The quiz was followed by dinner. There was grilled marinated chicken and pork, homemade tzatziki, potatosallad, greensallad, bread o butter. A huge THANK YOU goes to Martin Ekstrand (kennel Oakbeach, from south Sweden) who made a marvellous job by grilling more than 60 pieces of meat at 3 grills going at the same time!! A somewhat hot job with around 25 degrees warm outside and the warmth from the grills...


After feedingtime we had the prizes for the quiz followed by a visit to the dogs for those who wanted to, as they were about to go to bed (the dogs I mean, photos from the kennelvisit are at the end of this page). Meanwhile the guests were entertained by the trubadour and a young boy with a very nice voice, called Vincent.



In my caravan in the garden stayed Taava and Marjut from Finland over the weekend. Good, did we have fun wit the English guests to language barriers and languagebloopers ;-) You're welcome back anytime girls!!
Here Anna-Carin and Elisabeth Johansson are visiting them, they seem to have just as fun as we did...

After the visit in the kennel and the dogs were nicely tucked in it was time for the countrygames... 4 teams participatedand they were team Finland, team Sweden, team Australia/Italy and team England. We threw wooden sticks and we threw hayforks through tractorwheels (No-one hit that in the middle;-)) The winning tam was in the end team Australia/Italy who got 5 bottles of wine for their great work.

Here is the winning team, Australia/Italy


I think Marjut from team Finland who came in second was a bit enveyous...


... or what do you think..!?


Here is Eugene from Ryssia together with Hanna Holmberg from Finland (who took alot of the photos, thanks for them Hanna!)and Taava from Finland and then our Swedish Karoline ;-)




and here some photos from the bar. We thought it would be a good idea to place an English lady and the Irish man in the bar... Sandy Williams sems to enjoy herself behind the counter anyway...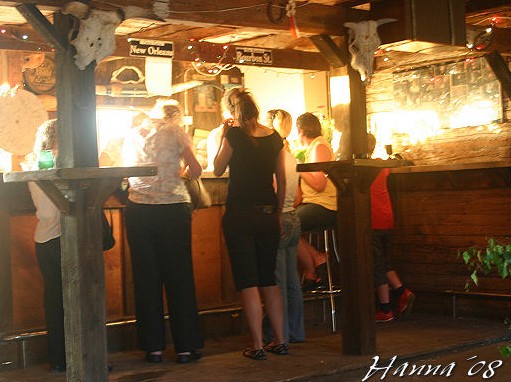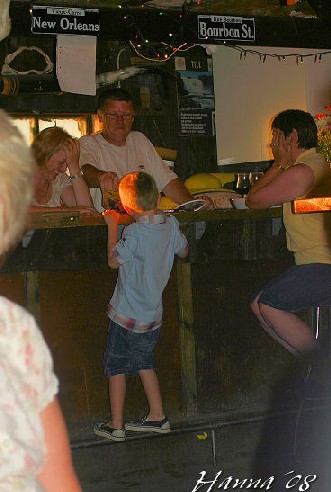 _____________________________________________________________

CIRCUIT SHOW at Almare-Stäket july 5-08 (155 Cockers entered)
Judges, dogs: Mrs Sue Young (UK). bitches and BOB: Mr David Shields (UK)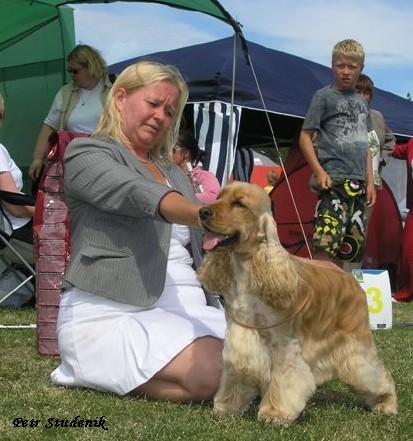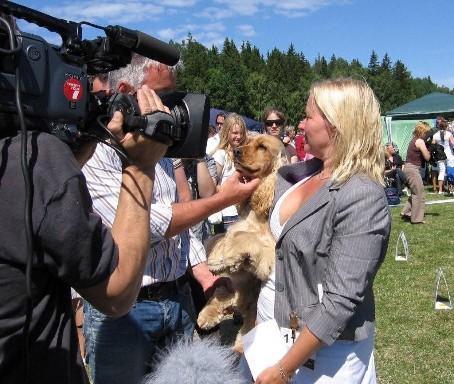 Here Folke has just won the CAC class wich made him Swedish showchampion. He could'nt have chosen a better palace or a better day to finnish his title, than under a breedspecialsit and at Swedens first World dogshow circuit!!! An English TV team was there to document the breed Cocker spaniel and wanted an intervju with the winner... Folke did'nt seem to mind the attention at all, or what do you think...!? (photo: Monica Riscoll)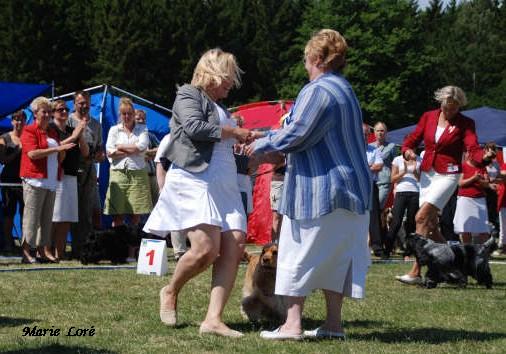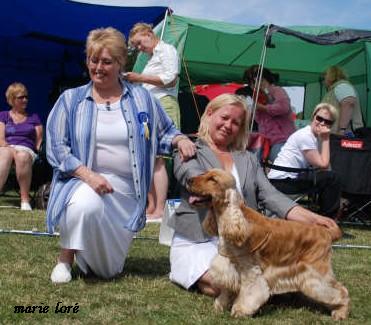 Here Folke wins best male, closely followed by Colin - Ch Manaca's Beat About the Bush who won the championclass. Then he was BOS and is posing with the judge for the photographers again...
I thought about leaving Malena - Ch Manaca's Cross Country at home as I thought her coat was'nt the richest... but then I thought she could come along for a nice day out, and she was entered so... I think there was about 36 bitches in the openclass....

(foto: Marita Hydling)

Nothing wrong with her mooves...

and she stod like a rock...

and apparently there was enough coat aswell...
Malena got excellent and won the openclass!!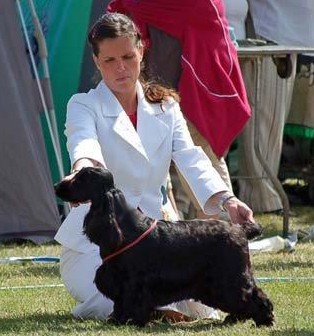 Sonja - Manaca's Undesingned Dream got excellent (sorry, no photo) and was placed 3:rd in championclass. Her lookalike daughter Martha - Manaca's Gainst the Grain got excellent and was picked out amongst the 6 best in the open class. She is full litter sister to our Folke, so the whole family did really well!
Well done Karoline!
(photo: Marita Hydling)

We also had a breedersgroup consisting Colin, Sonja, Martha and Liliann who came all the way from England to WDS! Thanks to Taava, Karro and Sandy for your help in the group
! ________________________________________________________________________
WORLD DOG SHOW in Stockholm July 6-2008
Judge males: Elina Tan-Hietalahti (F), bitches: Hans Lehtinen (F), all juniors: Helle Dan-Pålsson (DK)
This day was a terrible running between rings as I had 5 dogs entered and they were all to go in to different rings at the same time. I would never have made it without Jane Pop who had the dogs brushed and ready for when they were about to go in, and Karoline who was ready in the rings with them to handle them if necessary. Many thanks girls!!
Even if I was mainly running between rings and missed to see alot of the other dogs I had such a great time! Both to show the dogs and to meet so many friend and accuaintances, both new ones and old.
But... of course what made this day the most memorable was Walters win in veteranclass and being BOB veteran! In 2006 he was crowned the most beautiful veteran in Europe. Now, 10½ years old he was crowned the most beautiful veteran in the world and got the title Veteran World Winner-2008 to prove it!! This was his first show this year so you can imagine he was loaded with energy!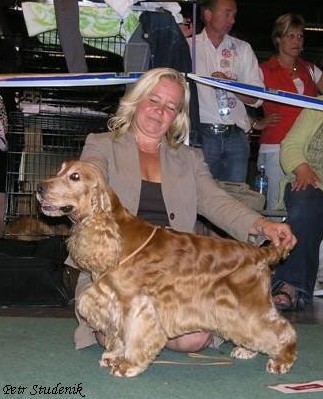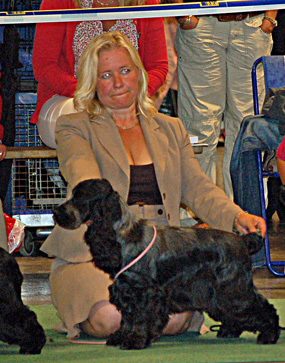 I am so very proud that 4 of my 5 entered dogs was placed in their classes. And the 5:th was in the final cut in a huge open class, that was Malena - Ch Manaca's Cross Country who got excellent. Folke was placed as 3:rd in the openclass (at this particular show it was'nt permitted to change class, so he was still in openclass even though he was made champion the day before). Manuela Johanssons Axel - Manaca's Live Long and Prosper was in the final cut in the boys juniorclass. Vanja- Manaca's It's All In the Name (< see photo) was 4:th in a huge bitches juniorclass. In that class was also Gittan Mikaelssons Ines - Manaca's Join the Joyride in the final cut. Ch Manaca's Undesingned Dream got excellent and was 4:th in championklass.
After a week with the house full of guests, bathing and trimming 5 dogs for WDS, the party and then all the day to day things to do, it became both calm AND empty when the last guests left the house on monday morning...
... it was worth every second!!


________________________________________________________________
Here you can see some photos from the visit in the kennel.... photographer was Hanna Holmberg.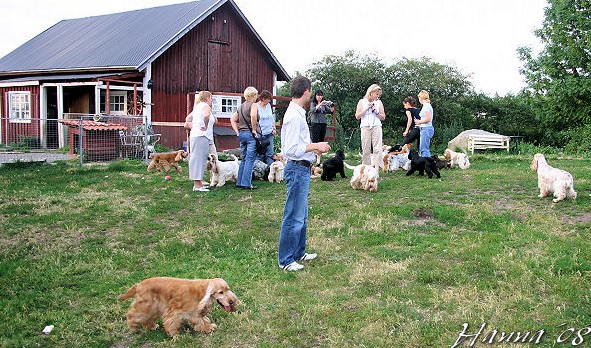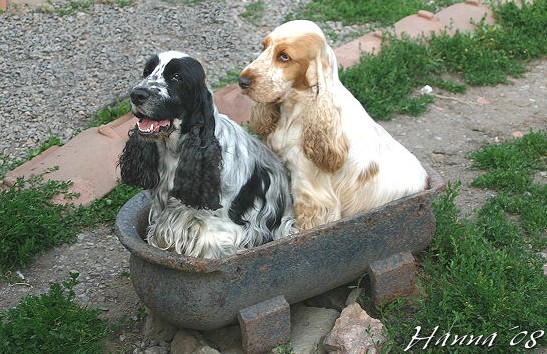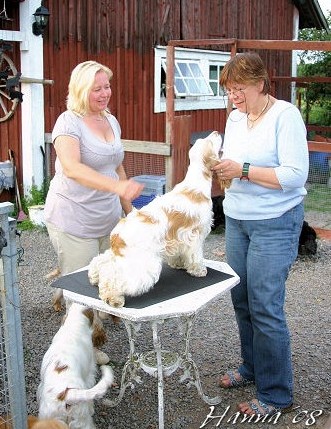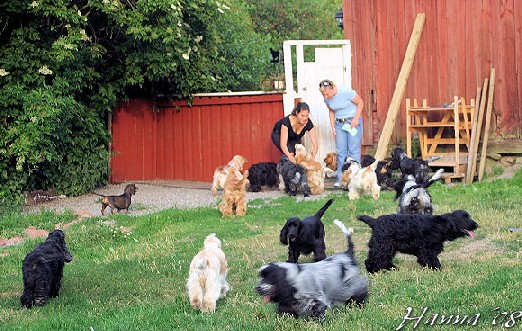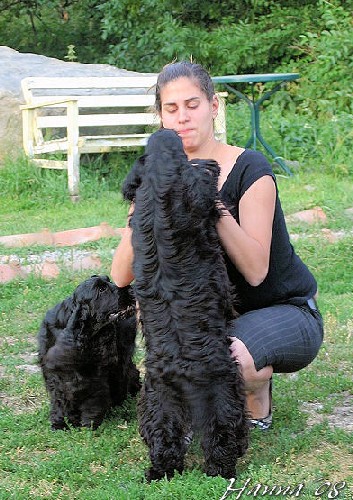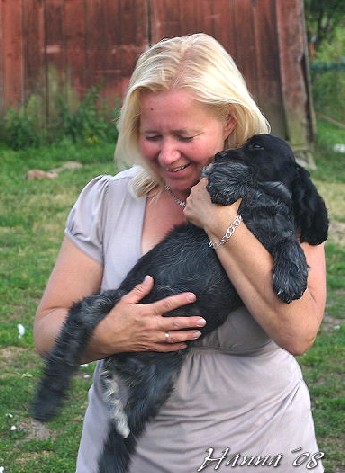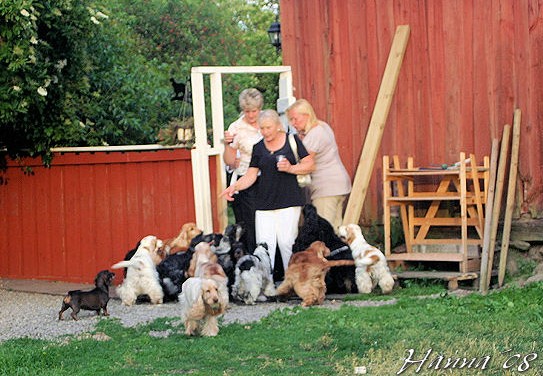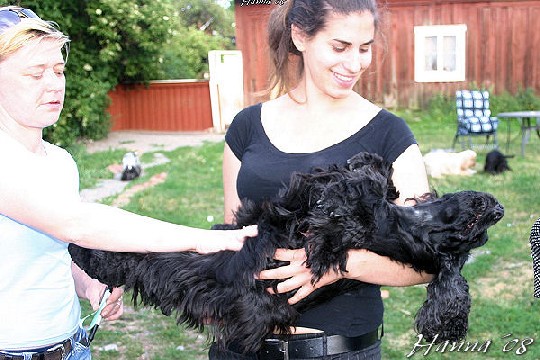 Sonja in her most common position...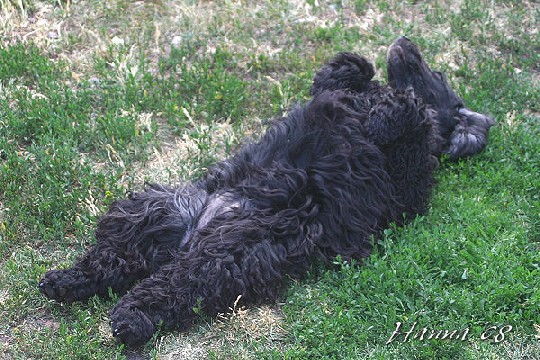 ... just like Greta!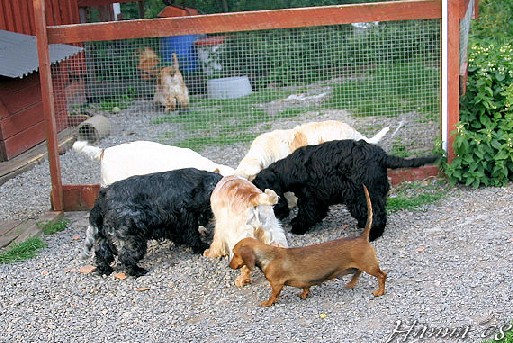 It was a very warm day, so we did finish a lot of drinks... ;-))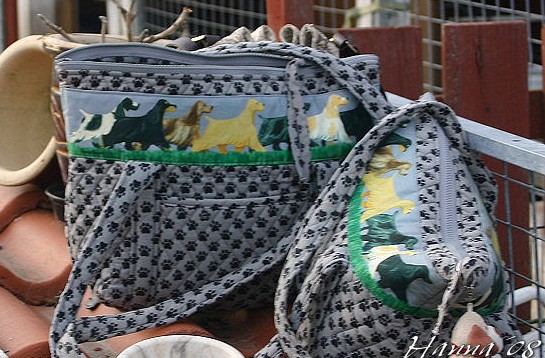 I could have snitched theese beautiful bags for myself...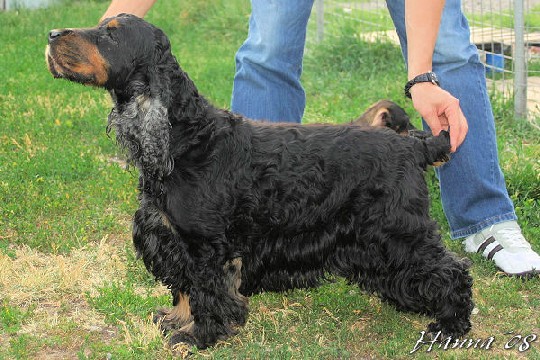 Even a not so newly trimmed Nemo gets smashing in the hands of a visiting professional handler, maybe time to freshen old Nemo up for some apperances in veteranclass...???


Copyright©Manacas-2004 uppdated: 2010-05-20