Manaca's Moves Mountains
born: 2007-10-21

Marcus, just after winning his second CAC from youthclass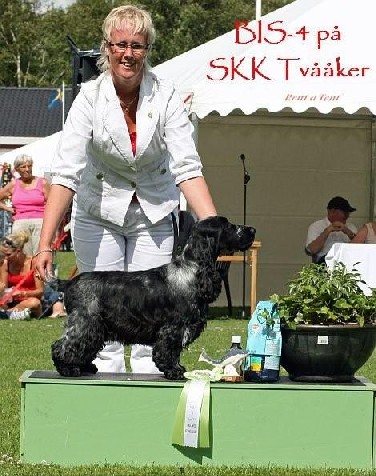 Marcus lives with the Ekstrand family at kennel Oakbeach, together with a few other Cockerladies. You can see more of him at their website.
He has had a marvelous puppycarreer with lots and lots of BOB and BIS placings. He ended his time in puppyclass by getting BOB and BIS-4 at Tvaaker International show!!!! >>>
Juniorclasses started in the same grand style, by winning the class and getting 4:th best male and BIS junior!!
He also got his first CAC and BOB from juniorclass at Öland International!! His second CAC was gained in youthclass, so now he only has to wait for his second birthday and one more CAC in openclass to gain his championtitle, but of course, lots can happen until then... ;-)


Marcus has a lovely reach and drive in his moves... and allways as happy!!


PEDIGREE:
Fader/Sire:

SU(u)Ch NUCH DKUCH JEUW-06 SV-06 SV-08
Manaca's Beat About the Bush

HD: B, optigen A, FN normal

(blue roan)

SU(u)CH NUCH DKUCH VDHCH Travis Vital Spark

(blue roan)

NUCH
Tomboys Tailor Made
(blue roan)
Travis Neon Light
(black & tan)
SU(u)CH NUCH SVCH
Manaca´s Rain or Shine

(Bl & white)
Nortworth A True Ashgrove
(bl & white)
SU(u)Ch
Manaca´s Alice in Chains
(blue roan)
Moder/Dam:

Northworth
Nugget at Manacas

HD: A

(blue roan)

JV'03 ESTCH
Finemoon Second Sight (blue roan)

(blue roan)
HD: A, optigene A

INT & FIN & DK & EST & S & N CH ESTW'01 FINW'01-'03 Benchmark Oliver Twist (blue roan)
HD: A
FIN CH Finemoon Worldwide Love
(blue roan) HD: B

(black)
HD: A

Helenwood Cuminandy
Primacy Witch of Carlang (blue roan)


Copyright©Manacas-2004 uppdated: 2010-05-20