Louise got one single puppy by Roger. The little babygirl was born on April 23. It's a beautiful blue roan girl!
Louises first litter, by Paddy turned out really well both mentally and in exterior. From that litter we kept Ida, who you can see here. Roger has had a few litters and has constantly stamped his offspring with his happy forward mentality and his supermoves. By him we have kept the still young Linnea at home, she is a clubshow winning puppy
She got the name Manaca's No Strings Attached, a bit after her mums name. Her petname i her new home is Chelsea.

Here she is 7 weeks old.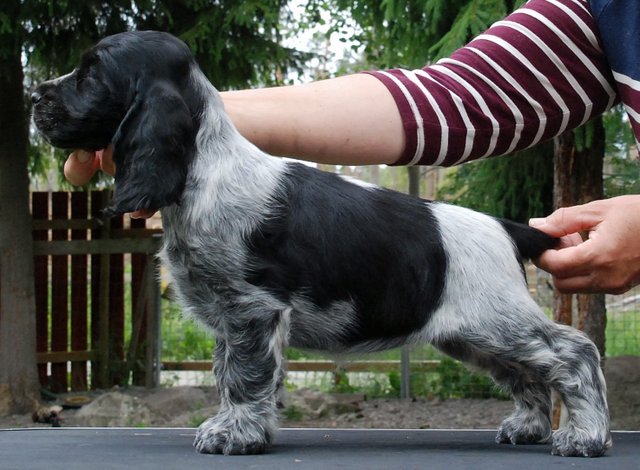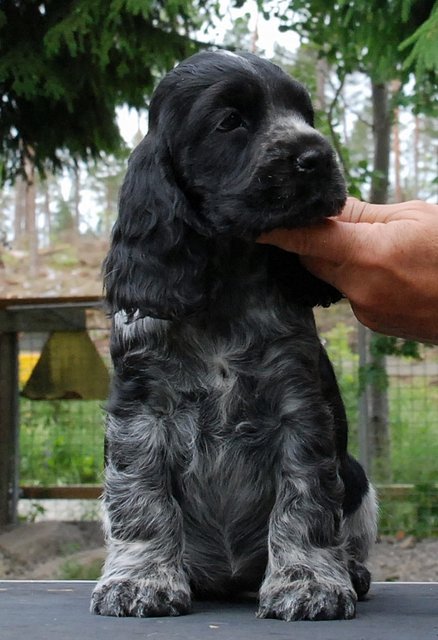 ___________________________________________
Fader/Sire:

SE U(u)CH SE VCH
Manaca's Luck of the Irish

(blue roan)

HD: A, optigen A, FN normal

SE U(u)CH SE VCH SE V-10
Manaca's Walk On the Wild Side

(orange roan)
HD: A, optigen normal/clear

SU(u)CH NUCH Travis Miles of Smiles
(blue roan)
HD: A, optigen normal/clear
Manaca's Honey I'm home
(orange & white)

HD: A

SE U(u)CH NOUCH NV-10 C.I.E
Manaca's Rags to Riches

HD:A, optigen & FN clear

(blue roan)

SU(u)CH DKUCH JEUW-06 SV-06 SV-08
Manaca's Beat About the Bush

(blue roan)
HD: B, optigen & FN clear

SU(u)CH DKUCH SVCH
Manaca´s In Your Dream

(röd)
HD: A, optigen A, FN normal

Moder/Dam:


SE U(u)CH NOUCH
Manaca's No Shoestrings On Louise

(black)

HD: A, optigen normal/clear, FN clear

SE U(u)CH SE VCH
Charbonnel Manacas Design

HD: B, optigen & FN normal/clear

Charbonnel Warhero (rCC)

(black) HD: 6/7, optigen A, FN normal
SU(u)CH NUCH NORDV-06 SVCH
Manaca's Undesingned Dream

HD: A, optigen A, FN normal

SU(u)CH NUCH NV-05 SVCH VWW-10
Manaca's Main Attraction

HD: A, optigen & FN normal/clear


SU(u)Ch NUCH NV-05 VEUW-06 VWW-08
Manaca´s Yours Sincerely

(red) HD:B, optigen A
SU(u)Ch Manaca´s Alice in Chains
(blue roan)
HD: A