JWW-18 SEU(u)CH DKU(u)CH Napoleon of Merrily
dob: 2017-08-26
Hips: B, eyes clear. Hereditary free from prcdPRA, FN & AON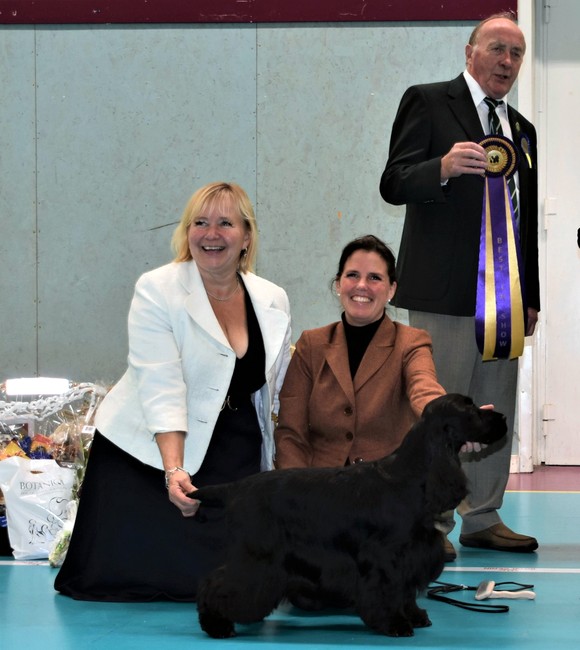 Leon goes BIS at Cockerclub Clubshow-2019!
He also gets his last CAC for the Swedish championtitle, and by that he also gets the Danish championtitle!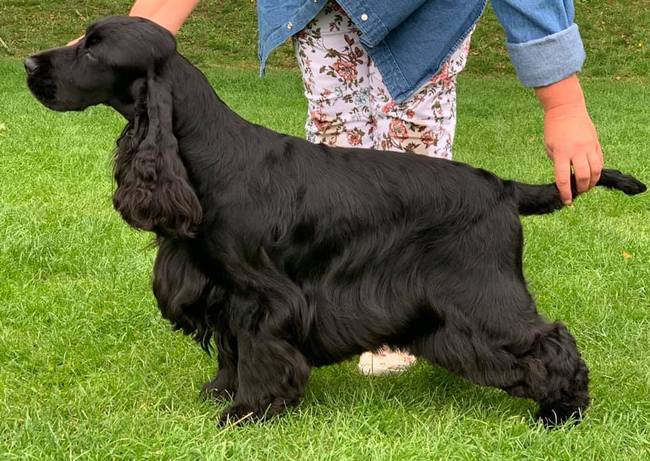 Leon almost 2 years old, at Bornholm in Denmark were he gets his Danish CAC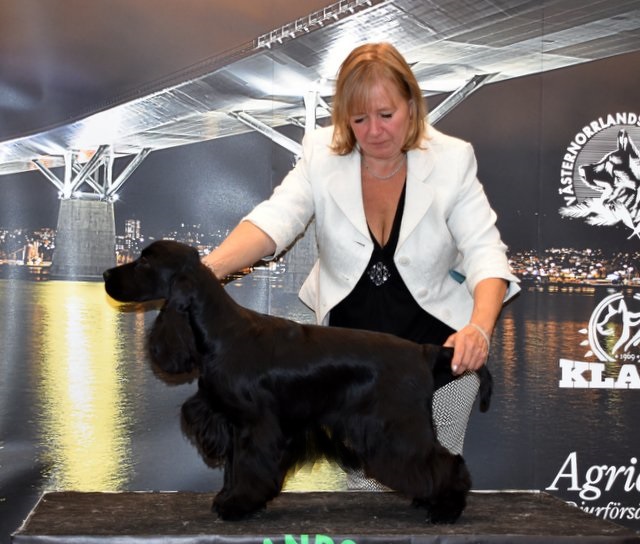 Leon 1 year old. Here at Sundsvall NDS were he was 3rd bd with CAC!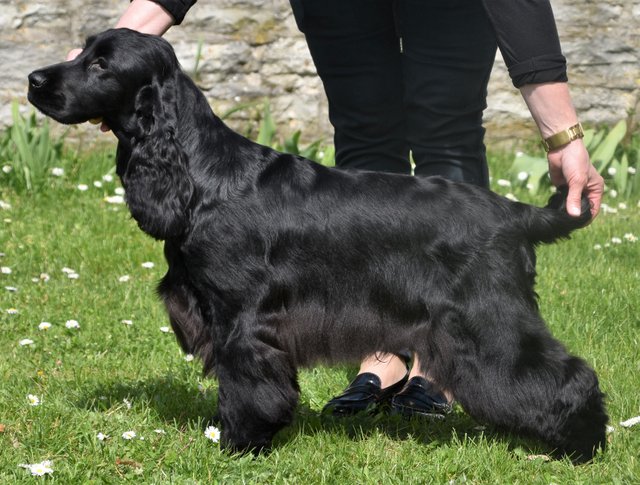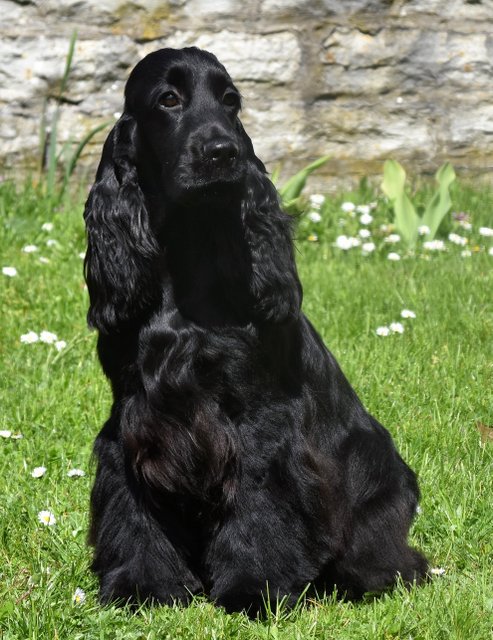 Leon, almost 9 months old.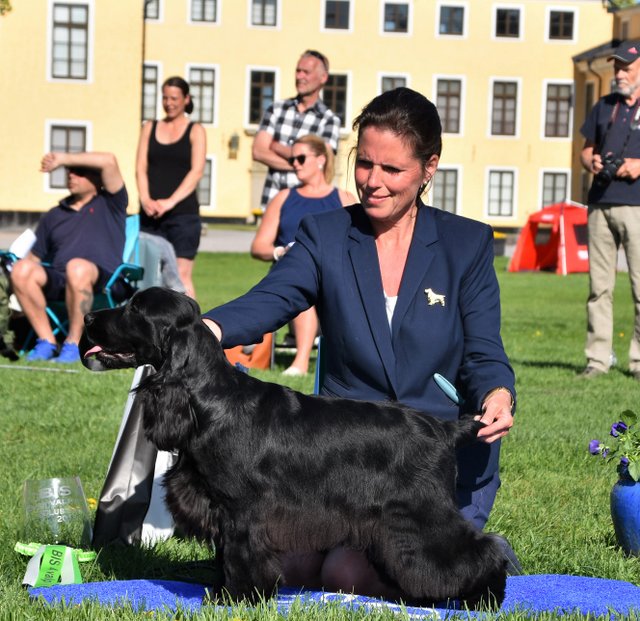 Leon at his last show in puppyclass were he was BOB & BIS-2 at Ulriksdals Gundog Clubshow!
Here handled by his co-owner Karoline Djerf
I saw a photo on Facebook of a black Cocker babyboy, and fell head of heels in love ! Me, who normally has very difficult to make up my mind and make desicions, at once contacted the breeder Severine Cottebrune Lesage in France and asked her if he was availlable, and he was! My good friend Karoline Djerf and I had talked about getting a new boy in and own him together, and I called her to hear if she was interested to go ahead with this one, and se was. We asked Severine for a short video of him before we made up our minds, and after seeing that there was no question, Leon was coming to Sweden!

Leon had a super time in in the rings as a puppy, with many BOB and BIS placements! And in junior he has continued his winning ways, and already has 2 CAC's and 2 res-CAC. He came with me to the World dog show in Amsterdam and there he went on to win the class which gave him the title Junior World Winner! >>>

He has continued his winning ways in intermediate with many CAC's, BOB's and groupplacements!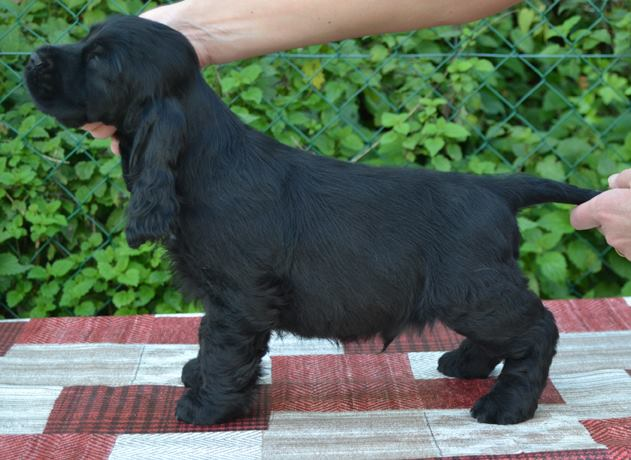 Leon 7 weeks old. The photo on Facebook when I fell in love with him....
| | | | | | | |
| --- | --- | --- | --- | --- | --- | --- |
| | | | | | | |
| 3 months | | 3 months | | 4,5 months | | 4,5 months |

PEDIGREE:
Fader/Sire:


Lujesa Sergeant Pepper
HD: B, prcdPRA & FN clear


(black & tan)

GBSHCH
Molkara Magician
(black & tan)

Molkara Exige
Zelbeck Festive Magic at Molkara
GBSHCH Lujesa Starry Eyed JW
(black)
Ch Asquanne Gillespie

Ch Lujesa Dolce Piselli JW
Moder/Dam:

Jezebel of Merrily
prcdPRA & FN clear


(black)

Gandalf of Merrily


Los Ombues War Fire
Sherclever A Little Respect
Fleur of Merrily
Djakarta the Red of Merrily
Daphne Du Bois d'Achelles


Copyright © Monica Forsander ~ Uppdaterad: 2019-11-02