WW-17 C.I.E GW-17 SE W-17 VDHCH SE U(u)CH NOUCH SE VCH SEVW-19 NORDVW-19
Manaca's Like It Or Not
COCKER OF THE YEAR-2016!
TOP WINNING SOLID COCKER-2015
RUNNER UP JUNIOR OF THE YEAR 2011!
born: 2010-04-09
Hips: A, Hereditary normal/clear for prcdPRA & FN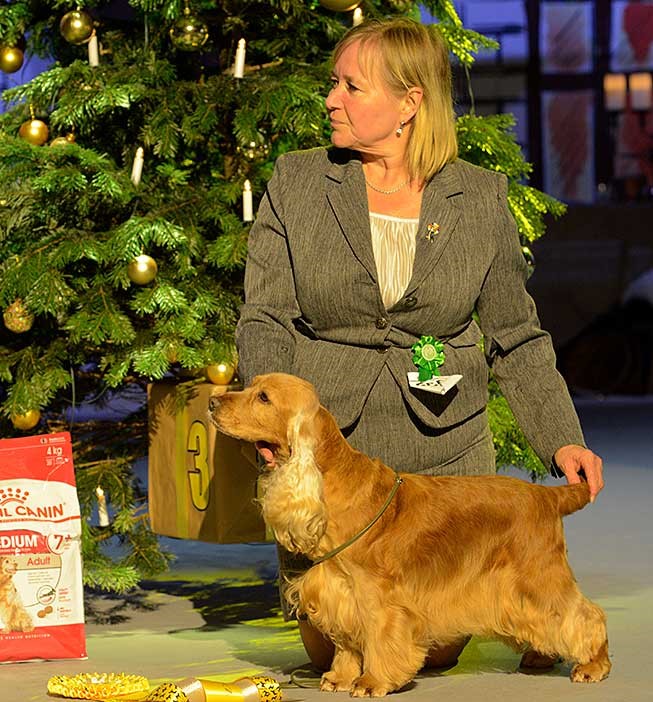 Lena went BOB & BIS-3 veteran at Nordic winner, Stockholm show 2019, and got the title NORDVW-19!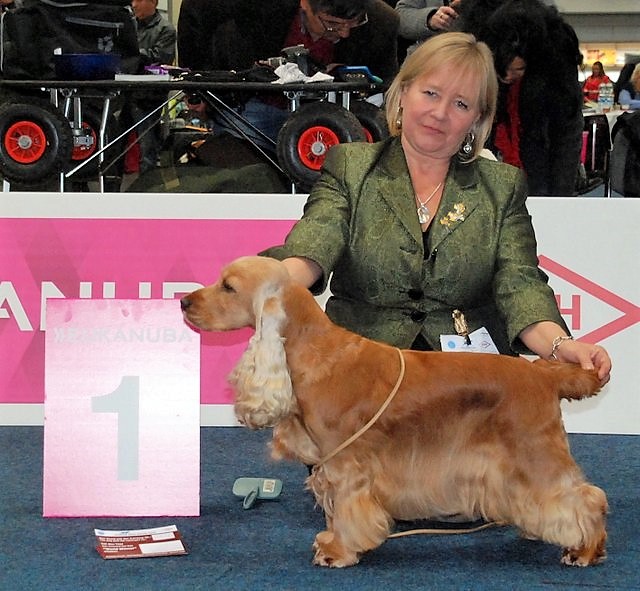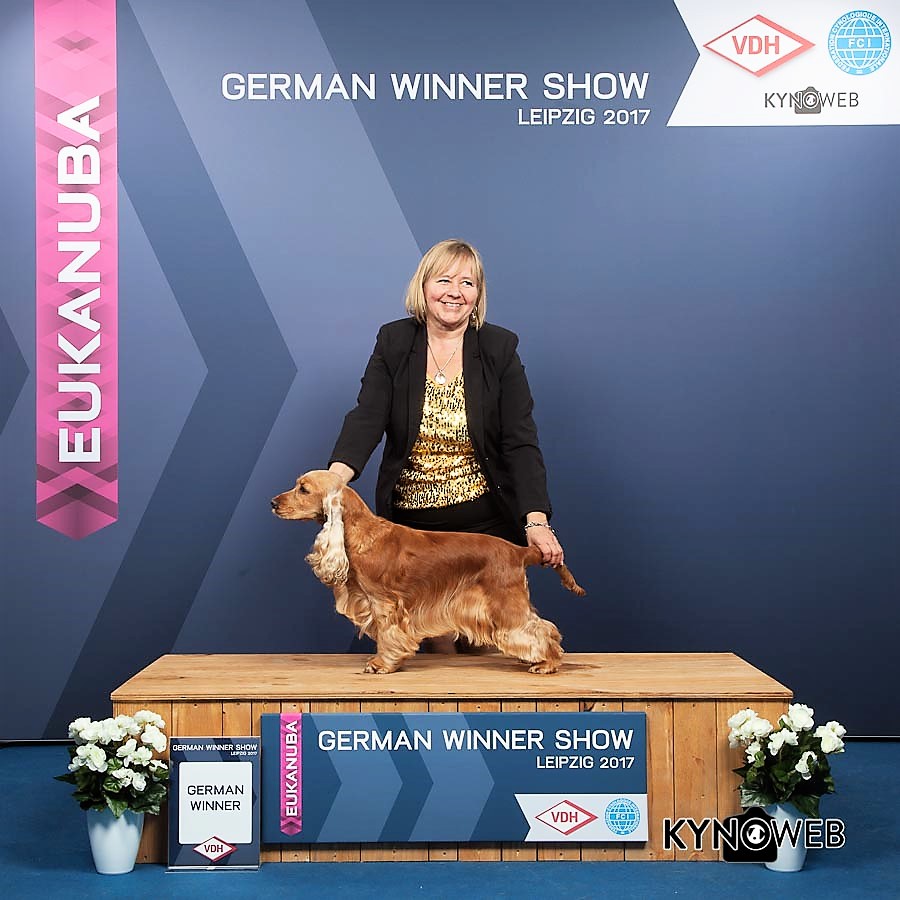 Lena newly crowned world winner, German champion and German winner in Leipzig 2017!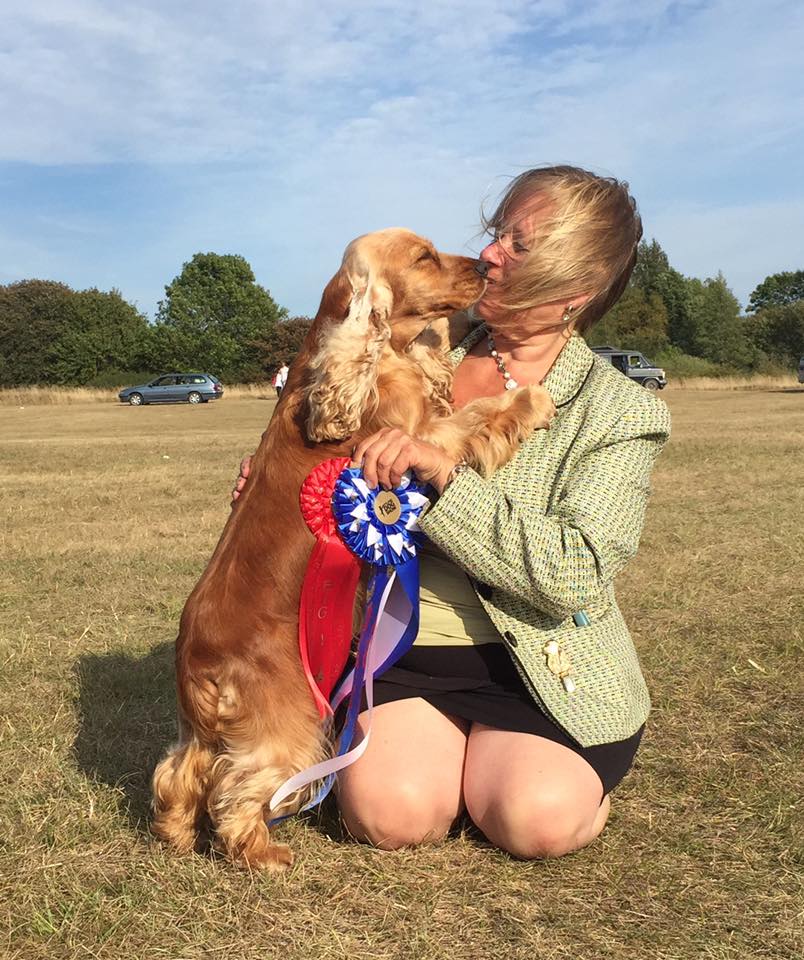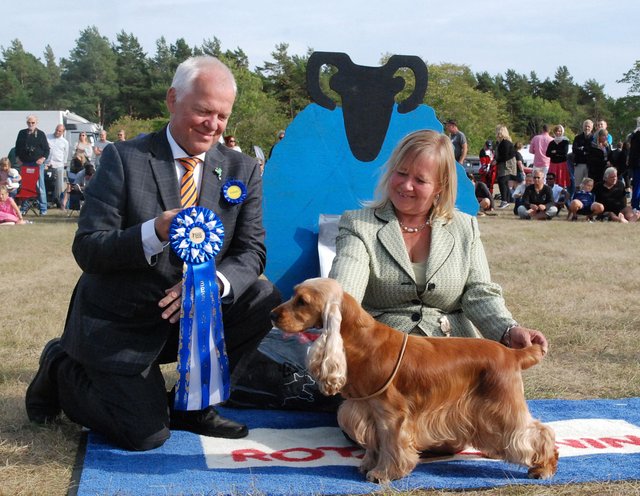 a lovely memory from 2015, when Lena won the group both days at Gotland x 2 Dog show and was also BIS-2 at the international!!!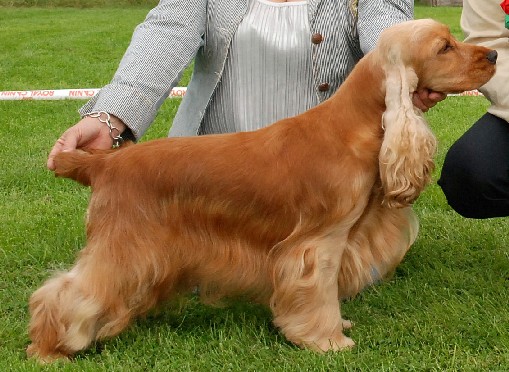 Lena 2 years old, with a new championtitle - Swedish show champion!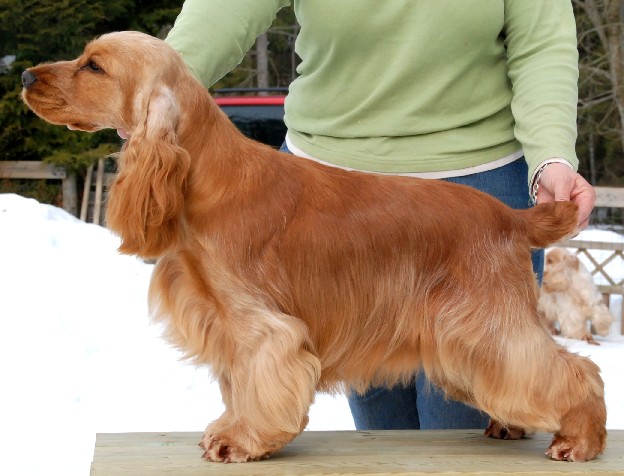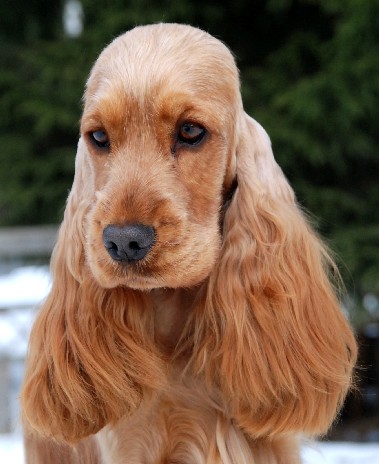 Lena 11 months old.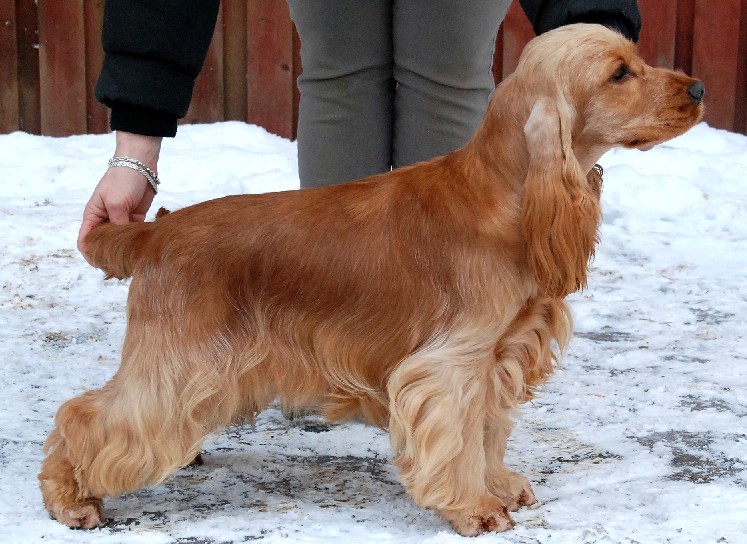 Lena 9 months old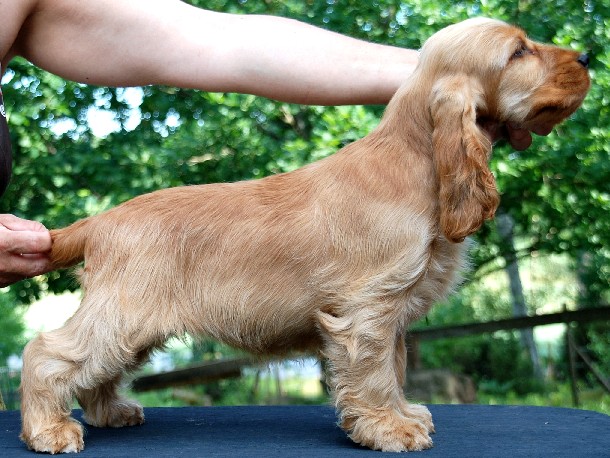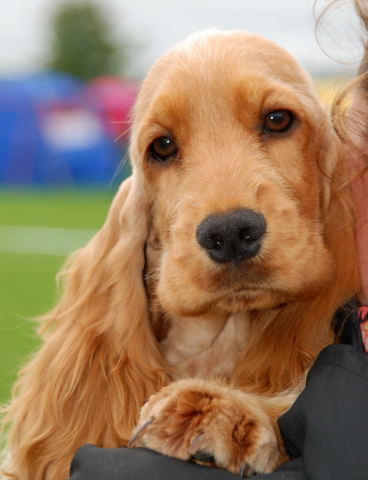 Lena 3 months old (4 months at headshot)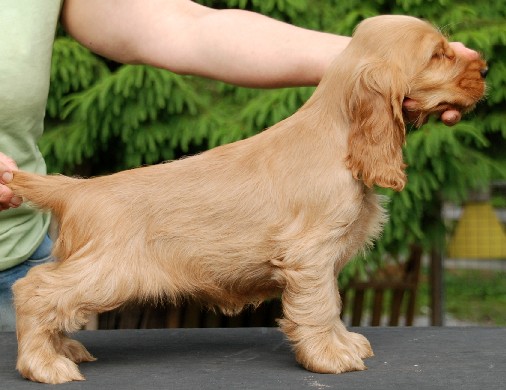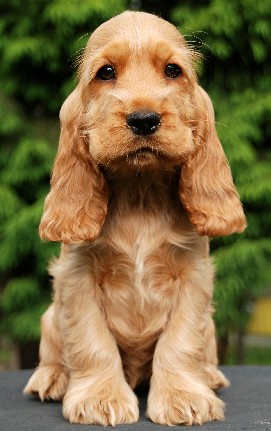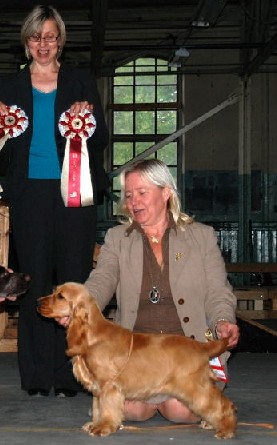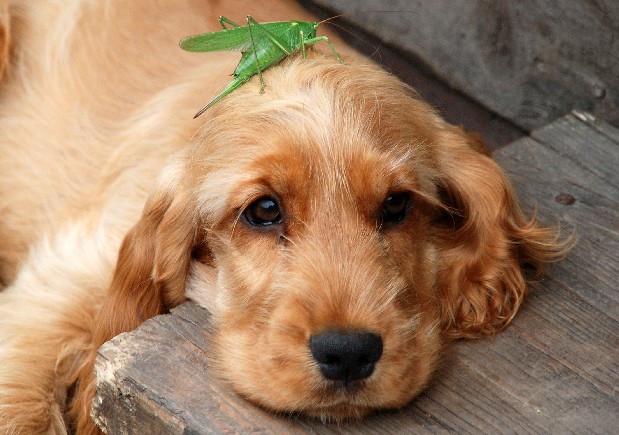 Lena 9 weeks old
I did'nt plan to keep a bitch from this litter as I have kept a part in Lenas brother Thomas who lives in Finland, but I just could'nt resist Lena! She just sneaked into my heart!
Lena is a very cool girl and does'nt get worked up about much. On the photo here she could'nt understand what the commotion was all about when all the rest of the dogs was runnin g around her and were VERY interested of what was on her head, she just looked around for awhile and then fell back in sleep.

Lena has been to her first shows with great results, BOB puppy both times! One show was a gundogshow and the other one was our clubshow!

Lena had a successful time in juniorclass and got 4 CAC's and 1 reserve CAC before she dropped all her coat after her first season. While we were waiting for that to come back she went out for some tracking and quickly gained her points for the tracking champion title!
Her time in juniorclass resultet in runner up JUNIOR OF THE YEAR-2011!

Lenas first trip to Norway, in february 2013 resulted in BOS, CAC & CACIB and gave her the Norwegian show championtitle!

In late March 2012 she gave birth to her first litter of 9!!! by our Paddy, see the litter here. She came in topcondition in notime and was out in the rings quickly after. So only 5 months after her pups were born she got her final CAC for the title and became Swedish show champi0n!!!


Lena 2 years old. Here she gets her final CAC for the title. Judge: Mr Jens Karlsson


PEDIGREE:
Fader/Sire:

SE U(u)CH
Fonesse Finlorian

(red)
HD A
Optigen A, FN clear

Beligar Special Effects At Rayol
Beligar Wrong Trousers
Beligar Dreacor Double Deuce
CH Lynwater Peregrine At Beligar
Blenkarn Sunshine
CH. Cleavehill Pot Of Gold
Blenkarn Gold Brocade
Fonesse Frasera
Fonesse Frasier
Cardamine Cardinal
Fonesse Fiddle My Tune
Cardamine Love Is At Marionswood
Cardamine Cardinal
Cardamine Midnight Chimes
Moder/Dam:




SE U(u)CH SVCH
Manaca's Unblushing Dream

(red)
HD: A
Optigen A, FN clear

SU(u)Ch Quettadene Lancelot

(black)
HD: B
optigen: A (normal/clear)

GbShCh Perrytree Sun Dreamer

(red)

GbShCh Perrytree the Dreamer
(red)
Perrytree Sweet Solitaire
Quettadene High Society

(black)

Quettadene Footsteps
(black) optigen A
GbShCh Quettadene Mystique
(black)
SU(u)CH SVCH
Manaca´s In Your Dream

(red) HD: A

SU(u)Ch NUCh NV-05
Manaca´s Yours Sincerely

(red) HD: B
IntCh AmCh FinCh JWW-94 WW-95-96-98 FinW-96 Northworth Madmans Return (black) HD: A Optigen A
NuCh Manaca´s Dancin´with the Blues (red) HD: u.a.
SU(u)Ch Manaca´s Alice in Chains

(blue roan) HD: A

Stocdale American Prayer (black/white)
HD: u.a.
Manaca´s Chain Reaction (blue roan)
HD: u.a.




Copyright © Manacas ~ Uppdated: 2020-01-01