SU(u)CH ESTCH NOUCH SVCH SE VV-14 Manaca's Gets Ideas Going
born: 2006-05-23
Hips: C, eyes: clear, FN tested clear, hereditary optigen normal/clear (A)
Junior of the year-2007, Qualified for Cruft's, where he was 3:rd in yearling!
Clubshow winner veteran 2014!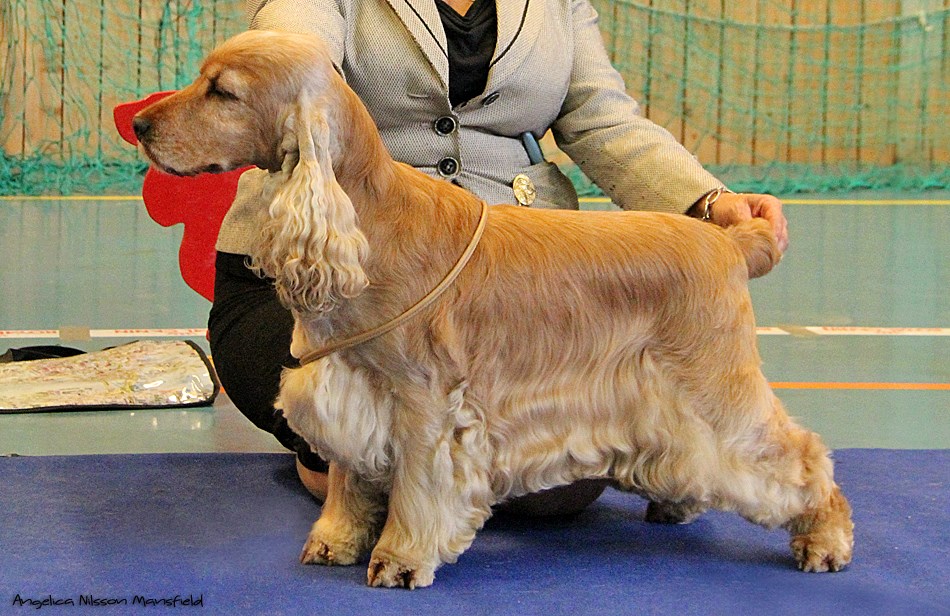 Folke 8 years old - BIS veteran at Clubshow-14!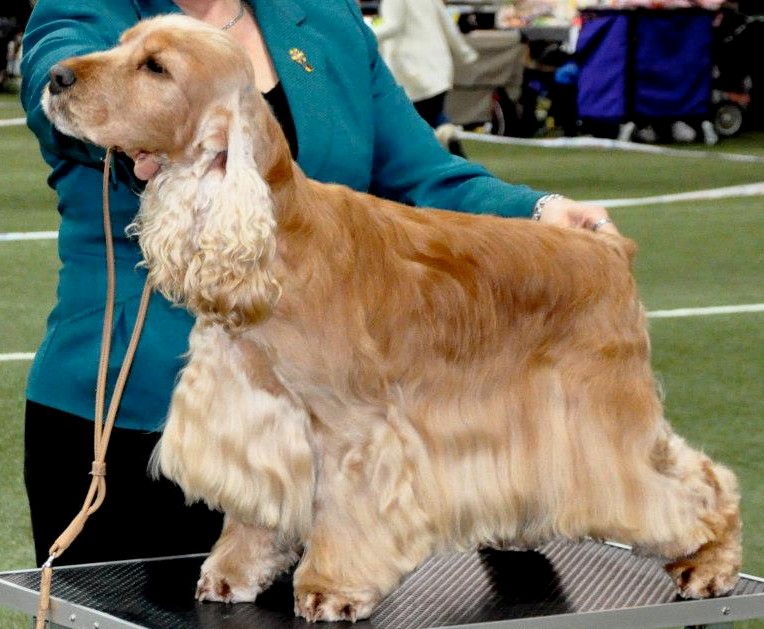 Folke 5 years old, just gone BOB with CAC and CACIB in Norway which gave him the Norwegian championtitle!

Folke 22 months old, reserve in yearlingclass at Cruft's 2008, and in July 2008 at the Circuit show (155 Cockers entered), getting best male and gaining his championtitle !! (photos: Petr Studenik)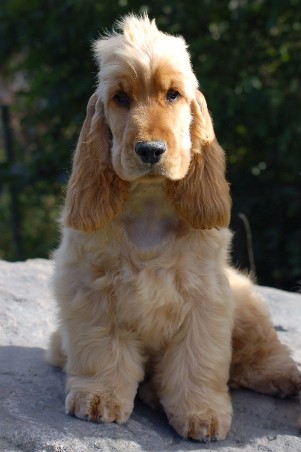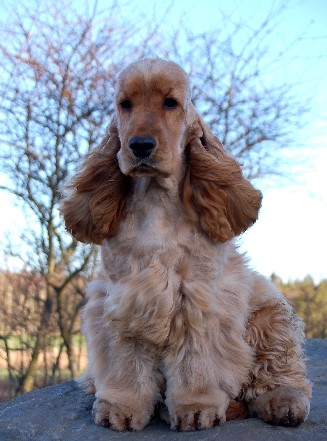 Prince charming Folke 4 months old... and here 8 months
I was totally taken by "Folke" the minute he was born. As he grew up he developed such a personality that just melts your heart. So the decision was taken, Folke had to stay with us! He is very much like his mother, like rubber in his body when he cuddles and always lays on his back everywhere so you'll trip over him. His speciality when he was a pup was to be dragged by the other dogs ears. He simply took hold of an ear, when they run by him and then he was dragged along for a bit!

Folke has been shown just a couple of times in puppyclass and has 1 x BOS puppy and 1 x BIS-2 puppy!!
He became Junior of the year-07 so you can understand he was successful as a junior! He has 1 CAC from juniorclass, wich was taken at Swedish winner show-07. He got several CAC's from youngsterclass and has a total of 7 CAC's. The last one was taken in tuff competion at the Circuitshow 2008 (155 Cockers entered), were he was bestmale and gained his championtitle!! Judge was Mrs Sue Young.

Folke is qualified for Cruft's 2008 by winning the juniorclass in Oslo under Mr Tamas Jakkel!!
At Cruft's he was placed 4:th under Mrs Sue Young, who judged him again at the Circuitshow-2008 and made him best dog and Swedish showchampion!! >>

Folke proved to be, just like his mother, a true natural at tracking! Without any training at all, he got all his prizes needed for the championtitle. So he is now a Swedish Tracking Champion!

He was BOB, got CAC and gained his Estonian championtitle at his first visit in the country!

Folke is hereditary optigen normal/clear !

WATCH FOLKE GROW:

| | | | | |
| --- | --- | --- | --- | --- |
| | | | | |
| 5 weeks old | | 7 weeks old | | 9 weeks |
| | | | | |
| 3 months | | 4 months | | 9 months |
| | | | | |
| 11 months | | 15 months old | | 20 months |
| | | | | |
| 2½ år | | | | |


STAMTAVLA:
Fader/Sire:

SU(u)Ch
Woodman Black Petrs

(black)
HD: A


Optigen: Normal/clear (A)

CRCH
Fuzberki Morvenny Back To Basic
AUCH LUCH VDHCH
Lochranza Black Mirage
GBSHCH
Canyonn Carbon Copy
GBSHCH
Lochranza Carol Ann
Bozótligeti Yanaida
Birchen Bas
Bozótligeti Black Ilalien Staile
Olivia In Black Petrs
Chairman Petrs
CRCH
Aro's Beefeater
Bed Girl Petrs
CRCH VDHCH
Italy Soul Petrs
MCCH
Goldenquan Della Giuliana
CRCH
Calm Sovl Petrs
Moder/Dam:

SU(u)Ch NUCH SVCH NORDV-06
Manaca's Undesingned Dream

(black)
HD: A
Optigen: Normal/clear (A)
FN normal

SU(u)Ch Quettadene Lancelot

(black)
HD: B
optigen: A (normal/clear),
FN normal

GbShCh Perrytree Sun Dreamer

(red)

GbShCh Perrytree the Dreamer
(red)
Perrytree Sweet Solitaire

Quettadene High Society

(black)

Quettadene Footsteps
(black) optigen A
GbShCh Quettadene Mystique
(black)

SU(u)CH DKUCH SVCH
Manaca´s In Your Dream

(red) *
HD: A, optigen; A, FN normal

SU(u)Ch NUCh DKUCH VEUW-06 NV-05
Manaca´s Yours Sincerely

(red) HD: B optigen A
IntCh AmCh FinCh JWW-94 WW-95-96-98 FinW-96 Northworth Madmans Return (black) HD: A Optigen A
NuCh Manaca´s Dancin´with the Blues (red) HD: u.a.
SU(u)Ch Manaca´s Alice in Chains

(blue roan) HD: A

Stocdale American Prayer (black/white)
HD: u.a.
Manaca´s Chain Reaction (blue roan)
HD: u.a.


Copyright © Monica Forsander ~ Uppdaterad: 2015-01-06