European winner show - 2006
Helsinki - Finland. Judge: Mr Paul Stanton
veterans & puppies: Mr Tamas Jakkel

Finland had this year a somewhat strange and peculiar, for us anyway, rules of competition. No best male or best bitch class and no BOS was taken out.Yet both 1 dog and 1 bitch got the title EUW-06. All class winners competed for the CAC and res.CAC and then for the CACIB other dogs entered the ringto compete for that. Luckily the ringsecretary was very competent and was able to manage all to the best.
We had a marvellous time in Helsinki, meeting lots of friends and making some new ones, and we like to thank all partisipants for making our visit such a memorable one.

First the veterans..

BOB veteran and the title EUVW-06 came to our Ch Manaca's Yours Sincerely
He the stayed on with Nina Kauhanen who showed him in the finals to BIS-2!! Thanks Nina!!


CAC, CACIB, BOB and EUW-06 was Ch Northworth Mad Situation, own: Anna & Photis Panayi from Cyprus
reserve CACIB came to our Almanza Hit the Road Jack


CAC to Ch Northworth Mad Situation (photo: Anna Panayi)
reserve CAC to Ch veteran Manaca's Yours Sincerely


Bitchwinners in open class
won with CAC, CACIB and EUW-06 Northworth Occult Taste, own Nina Kauhanen
and 2:nd Honeywater's Eye of the Beholder, own: Karoline Djerf, Sweden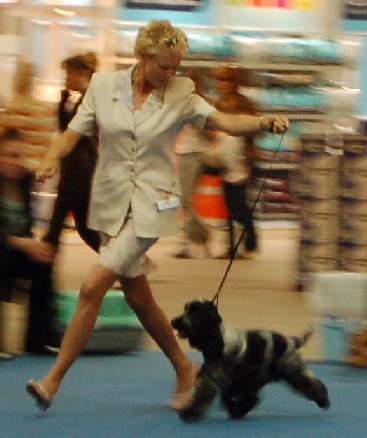 Winner in juniormales Manaca's Beat About the Bush running for the title EUJW-06. Proud owner is Yvette Widenor

Juniorbiches: only 2 got excellent and won did the littersister to the juniorwinnermale, Manaca's Bag of Beans, guess if the breeder of theese 2 dogs is proud!? 2:nd in the class was Merja Järnstedts Norvale Crystal

and here's some more photos from the show...


2:nd in championclass dogs: Corralet Indian Brave and 4:th Doubtless Black Petrs


2:a i workingclass was the russian dog Twinsmade Dressed to Dance, shown by breeder Evgeny Mamoshuk and at the photo next to him is the bitch Honeywater's Eye of the Beholder, running towards a second place in open class.


and on a walk in central Helsinki we found this castle of sand, in between the all the real castles. Cute, is'nt it!?


Copyright © Monica Forsander ~ Uppdated: 2010-05-20