SE U(u)CH SE W-10 Manaca's Walk on the Wild Side
orange roan male, born: 2008-11-04
Hips: A, optigen & FN: normal/clear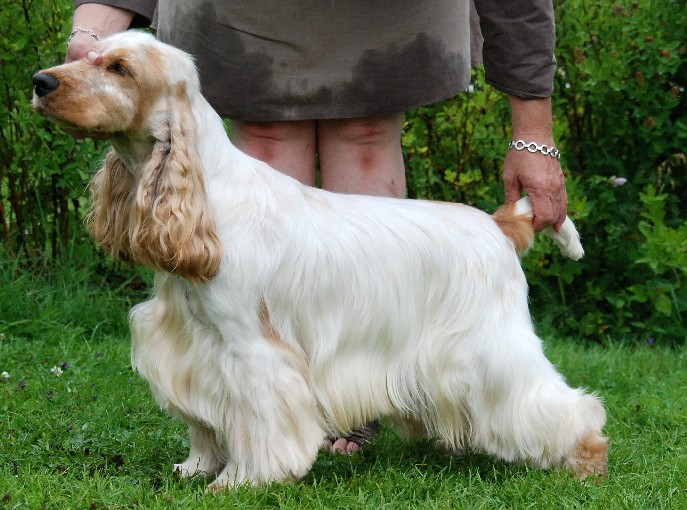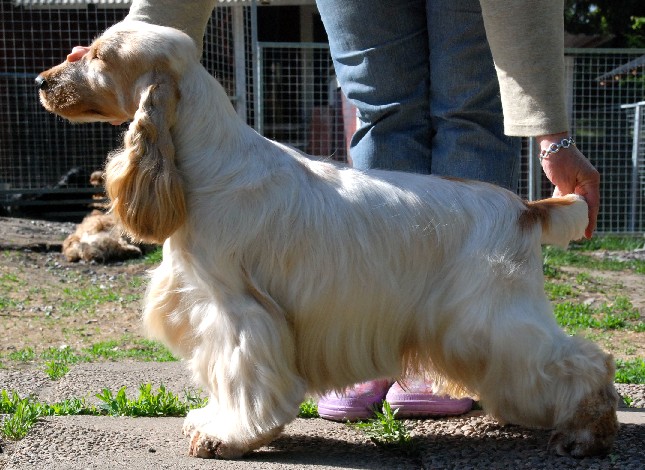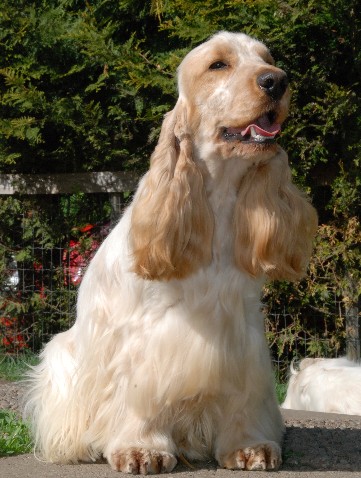 Alfred 2,5 years old (photo taken 2 days after show so not bathed at the day)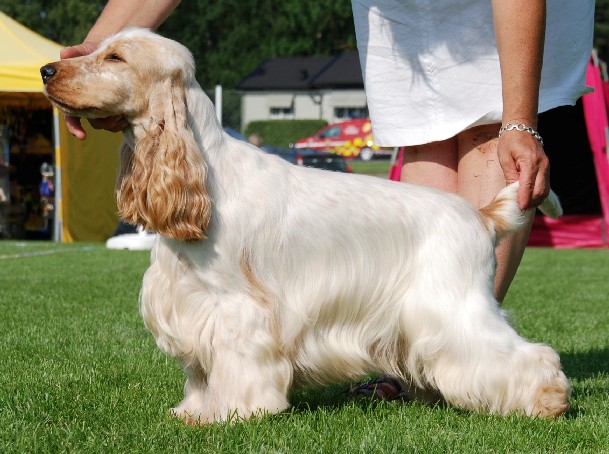 Alfred 1½ years old.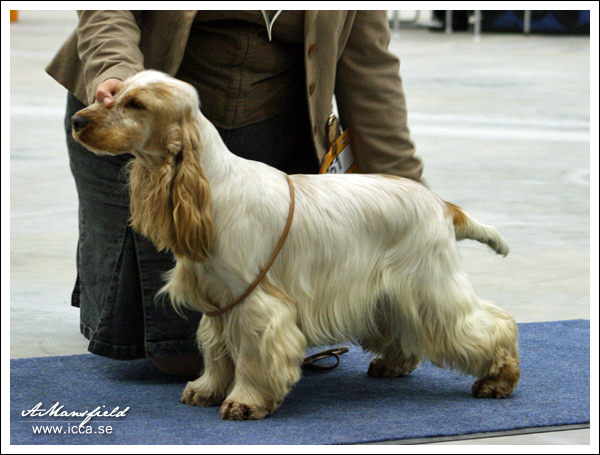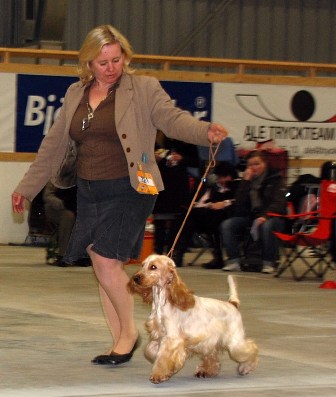 Alfred in April 2010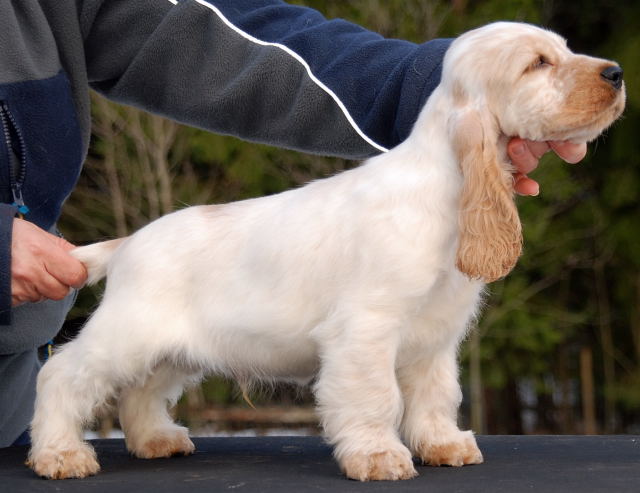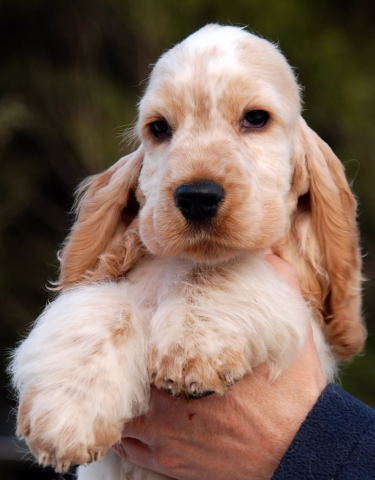 Alfred 10 weeks old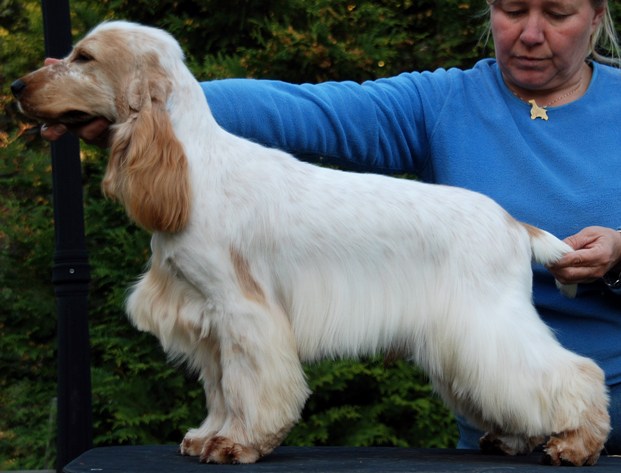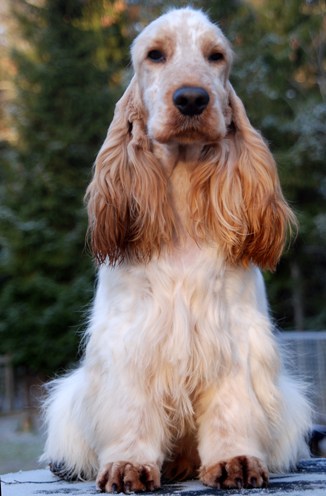 Alfred, 10 månader
It was Alfred who got to stay with us from Babsans litter of 2. Alfred is a grandson to our Otto and reminds so much of him, both to looks and temperament. He has a very easy way around the other dogs, and he is such a happy boy all the time. Through Alfred we are getting new lines into the kennel so it will be very interesting to follow him grow up.

Alfred has only been to one show as a puppy where he won his class and was BOS puppy only beaten by his littersister!
Then he waited til youthclass to be shown. He has been placed in best male class 5 times of 6 which has already placed him on the top 10 list in Sweden!!!
Alfred got his first CAC in great style by getting best male at Swedish winner show in Avesta! That also gave him his first title - Swedish winner-10 and the CACIB! He got his last 2 CAC's on the same weekend which made him Swedish show champion!

Alfred has up to date 6 litters with a total of 34 pups were 24 of them are bitches! He sires orange roan, blue roan and blue roan & tan. Some of his offspring has already started to show some success in the rings with several CAC's, CACIB and BIS placements! Here's a selection of his babies...



PEDIGREE:
Fader/Sire:


SU(uCH NUCH SV-07 NV-07
Travis Miles of Smiles

HD:A, optigen A

(blue roan)

SU(u)CH NUCH WW-03
Travis Gossip Starts Here
(red)

SU(u)CH SV-96
Travis Touch Mark
(red)
Travis Neon Lights
(bl & tan)
Travis Brassed Off
(blr & tan)
Travis Hale Bopp
(orr)
NUCH EUW-97 KBHV-97
Travis Overdrive
Moder/Dam:

Manaca's
Honey I'm Home

HD:A

(white & orange)

SU(u)CH NUCH SVCH SV-03 Manaca's On the Road
(white & orange)
HD:A Optigen: A, FN normal

VDHCH DECh SU(u)Ch NordV-03 Midnight Train vom Rauhen Holz
(blue roan)
SU(u)CH DKUCH SVCH
Manaca's In Your Dream
(red)
HD:A, optigen A, FN normal
Northworth Nugget at Manaca
(blue roan)
HD: A
BaltV Finemoon Second Sight
(blue roan)
Help's Black Magic
(black)


Copyright © Monica Forsander ~ Uppdated: 2012-06-07